Located at:
1036 North Winstead Avenue
Rocky Mount, NC 27804
Find us between
Carolina Sports and Spine and Coastal Credit Union on Winstead Ave.
Phone: 252-937-7399
Fax: 252-937-5767
Email: Mstrickland609@aol.com
Office Hours
Monday-Friday 9:30-5:00
Saturday- By Appointment Only
ADD A CUSTOM CAMEO!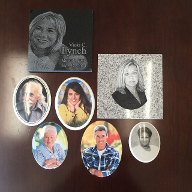 There is nothing more creative than having your loved ones portrait on their head stone. Let their beauty shine on for all to see and never forget even the smallest of details.